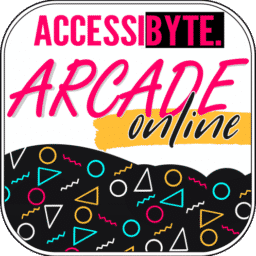 Fun & fully accessible games for students who are blind and visually impaired

Developed for a wide range of abilities.

Graduated challenge to match all skill levels.

Or remove challenge and focus on fun.

Endless Extreme modes for advanced players.

Fully audible for players without vision.

Totally self-voicing.

No outside assistive technology required. 

Built specifically for players who are blind or visually impaired.

Visual Enhancements for low vision players.
Customize in-game text.
Big, bold distraction-free graphics.
Game graphics aren't essential to gameplay.

Run a shop at summer camp
Game type: Shop Simulation.
Stock your shop.
Sell items to make money.
Plan ahead for rainy days.

Train to become a samurai
Game type: Action game.
Strike when you hear the shout.
Hone your patience & reflexes.
Challenge friends in versus mode.

Memorize and mimic the echo
Game type: Memory game.
A timeless test of mental skill.
Retain and repeat the keypresses.
Can you maintain the echo?

Game type: Word game.
An accessible classic.
Customizable with Teacher Dashboard.
A fun way to study vocabulary.

Strategize to defeat the tower
Game type: Role Playing Strategy.
A game of tactics and planning.
Customize your hero.
Encounter monsters on your way to the evil wizard.

Game type: Goofy Quiz Game.
FutureBot asks bizarre questions.
Choose the answer that feels right.
Listen to your wacky future!
iOS (iPad and iPhone)
Windows 7, Windows 10
Chromebook, Chrome OS
Android
MacOS, OS X
Internet connection
A hardware keyboard (USB, Bluetooth, etc.)
Google Chrome  internet browser
A love for accessible technology
Accessibyte Arcade is fun for everyone!
Try Accessibyte for free!
Grab a 14 day free trial to see what all the excitement is about.
Individual User 365 day access
Learn touch typing.
Raise your Typing Pet.
Totally Accessible.
Any device, anywhere.
Individual User 365 day access
Learn touch typing, study & play games.
Our entire student platform!
Typio, Quick Cards, Accessibyte Arcade & ProPack.
365 day access for teachers and students
Full remote access for Students.
Includes full Teacher Dashboard.
Track student progress.
Send custom lessons.