Supercharge your students from the Teacher Dashboard
Track progress, create reports, send assignments, tweak settings & more!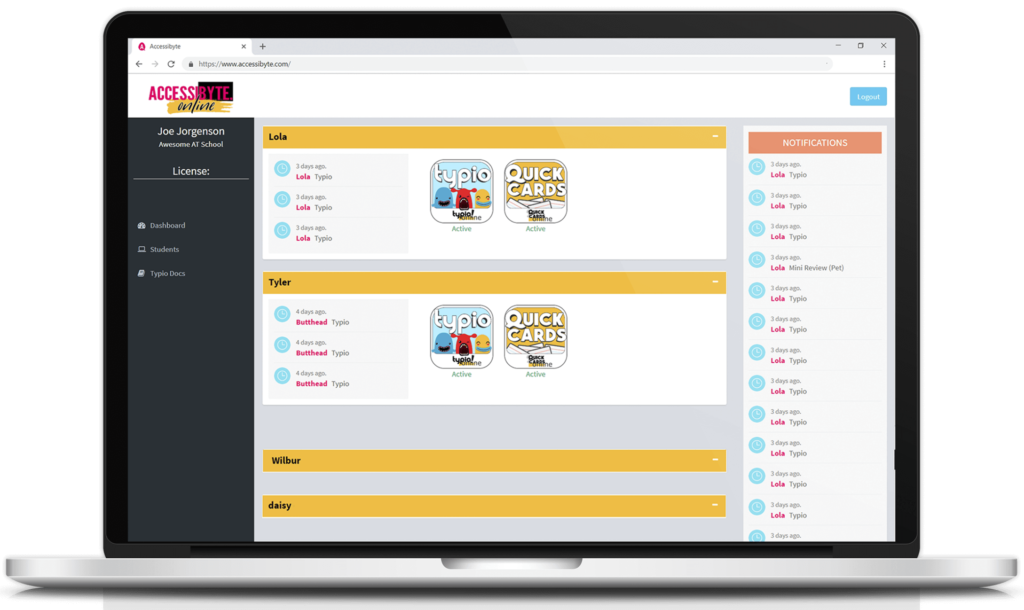 Add any number of students to your Teacher Dashboard.
Change student passwords.
Create 1-Click logins for your students.
Manage your seat licenses.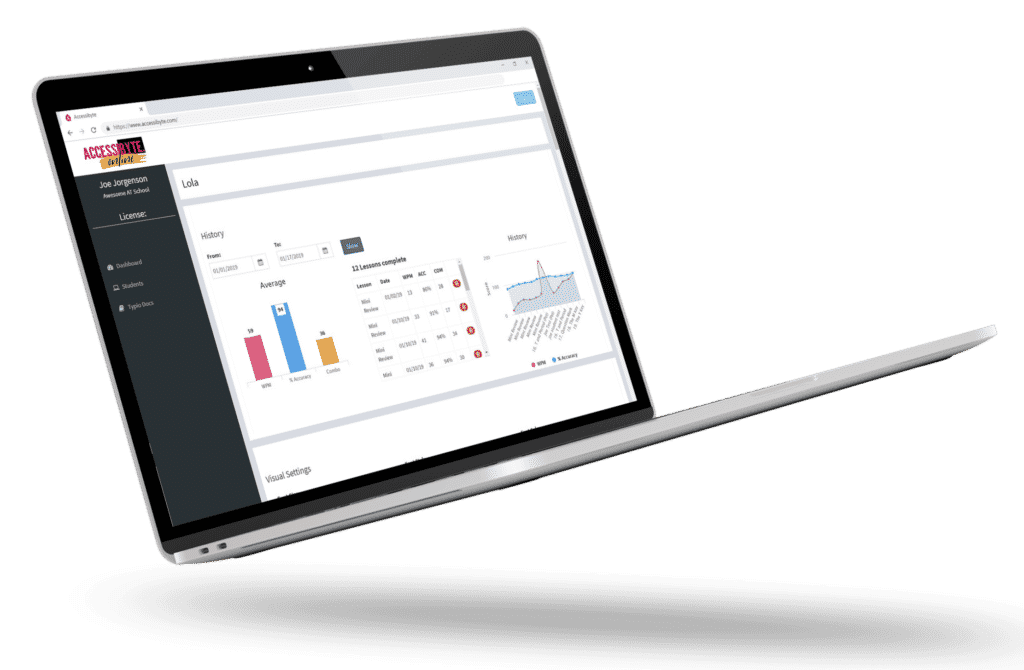 Track progress and activity
Check what your students have accomplished with Accessibyte Online.
Typing scores from every Typio lesson.
Games played in Accessibyte Arcade.
Test scores from Quick Cards.

Activity

in the ProPack apps.
Create custom assignments
Quickly convert your classroom material into accessible assignments​
The Teacher Dashboard makes it easy to create content that's accessible to your blind and visually impaired students. Just type or paste your classroom material and send it to your students. Their software will apply visual enhancements and full audible functioning based on their individual settings.
Custom typing lessons

for Typio.

Flash card decks & tests

for Quick Cards.

Reader documents

,

To-Do tasks

and

Notepad documents

for ProPack.

Customized game content

for Accessibyte Arcade.

Make the text easier to read by setting text style, size and color.
Minimize visual fatigue by customizing background and text color contrast.
Maximize visual ability by toggling visual effects.

Make student programs audibly accessible by choosing a voice used by your student.
Tweak the voice speed and pitch to make sure it's easy to understand.
Keep things fun by customizing other sound effects used in each program.

Customize program parameters such as Typio Online's WPM and Accuracy goals.
Choose whether students are allowed to change their own settings.
Set limits on access to games or other features.
Get Accessibyte Online Today!
365 day access to Typio Online.
365 day access to Typio Online, Quick Cards, Accessibyte Arcade and ProPack.
365 day access to Teacher Dashboard.
Need Accessibyte Online for your classroom, school or district? Request a quote for volume discounts.