Boy oh boy, Typio Online is reaching new users every day! It's fun, it's exciting, it means we need to step it up and add some new features!
Recently, we were notified that a group of teachers have been relying on Typio Online with students who were visual, yet had hearing difficulties. They were getting along great but could have been getting along even greater…I mean better. We here at Accessibyte dug in and assessed Typio Online for any areas where there were audible prompts without visual cues. We found two, then fixed them. We also made one additional visual tweak for good measure. Read on to get the details!
Typo Shake
When a user presses an incorrect key in Typio, an error sound is played. The sound being played depends on the current SFX scheme chosen in settings. This put users who had difficulty hearing at a disadvantage. Unless they were staring at the on-screen keyboard, there hasn't been any visual indication of the incorrect keystroke. Sure, the typing prompt wouldn't progress, but that's not much of an indication. Not cool!
Well, the first feature included with the Visual FX setting is a slight visual shake of the typing prompt when an error is made. The animated gif we included in this article doesn't do it justice. The shake is a natural and subtle indication the user made a typo in Typio! Check it out next time you're doing a lesson.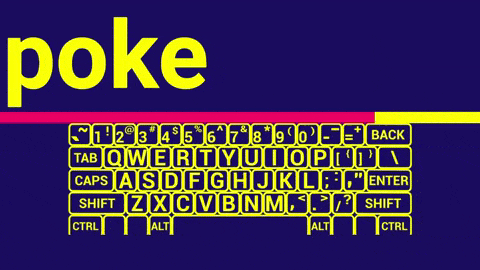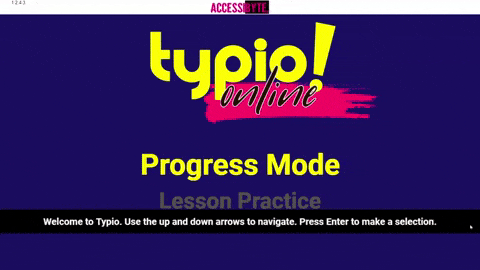 Subtitles
Typio Online has been designed from the ground up to be fully audible, meaning 100% of the program is accessible without vision. This is really great! What's not so great is there were a few instances where audible instructions weren't shared visually. This left out users with hearing difficulties. Very not cool…not very cool? Not sure which it was but it's fixed.
Users can now enable the Subtitles setting to bring up a visual subtitle box. This box contains text detailing what the program is currently verbalizing. Very useful! Even more useful is the fact that the subtilte box can be moved by holding down the left mouse click and dragging the mouse up or down. Piece of cake!
Smooth Colors
This is one of those little tweaks that sounds like nothing but makes a big impact. We like those sort of tweaks…even though they're deceptively complicated to program!
In the past, when users changed their Background, Font or Divider color settings, the colors were instantly changed to the new option. Pretty straight forward. Now things run a little more smoothly.
When a color setting is changed, the old color eases into the new color. So instead of a drastic POP! in color, things are a little easier on the eyes. A subtle update that packs a punch!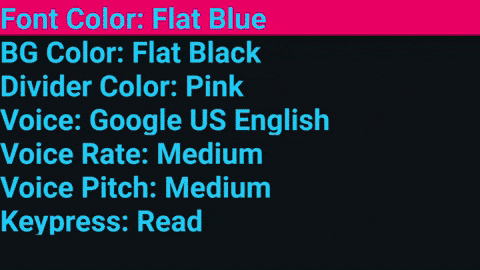 There you have it! These new visual settings bring something exciting to Typio Online without isolating non-visual users. Our typists who are hard of hearing will enjoy having slight visual cues to engage and guide them along the way to becoming Typio Online masters! We've got ideas for even more useful features for both non-visual and visual users, so stay tuned for more new features in the future!